If you don't want to read the entire article, simply click the words above to see the top 4 best benchtop planers.
What is a Planer?
The wood planer, also known as the thickness planer, is one of the lesser known tools in the woodshop, yet it is extremely useful in specific applications. It can be an invaluable asset to have for hobbyist and professional woodworkers alike since it provides the capability to surface your own lumber, among other uses. Being able to take rough-cut lumber and turning it into a final product is a very rewarding experience and a surface planer is a crucial part of this process. Traditionally, one would use hand planes to surface rough-cut lumber, typically a jack plane, yet the thickness planer makes planing hundreds of linear feet of wood a doable afternoon task. Don't get me wrong, there is a time and place for hand tools and in certain areas they are even superior, but for most applications a thickness planer is an excellent investment to make. 
Why a Benchtop Planer?
A benchtop planer is essentially a more compact tool that is much less expensive than a traditional planer, being ideal for a hobbyist woodworker.
Talking to Rob Rein (aka gingerwoodworks), an experienced woodworker with a social media following in the hundreds of thousands, he says: "For most at home shops a bench top planer offers an easily moved, stored, and functional option for cleaning up rough lumber, squaring up material with simple jigs and most importantly saving time and money when purchasing rough sawn materials versus already processed materials. With sizes up to 13 inches, most projects can be accomplished while potentially earning the money needed to upgrade blades, or even to a larger planer down the road."
Best Width Capacity:
When narrowing down what thickness planer you want for your woodshop, a very important feature to look for is how wide of a board it can handle. A planer with high width capacity makes surfacing panels, larger cutting boards, and multiple boards at once possible. It is always frustrating when you glue up a cutting board and forget that you have to surface it, and end up not being able to put it in your planer because it is 1/8th of an inch too wide. 
Another critical factor to look for in a wide capacity planer is it's power and capacity to cut wide boards. Often you can find a 13" planer that could theoretically fit a 13" board in it, but it would take a few days to plane the entire length. Most benchtop planers have essentially the same motor, but some have inferior engineering that decreases their operating lifetime. Furthermore, the quality of construction is important when you are planing wide boards. If half of your planer is plastic, you will experience excessive noise and rattling when planing at maximum capacity, which in turn decreases the life of the planer.
After thorough research, the benchtop planer with the best width capacity is the Delta Tools 22-555 planer. This tool incorporates all the values I listed above: 13" capacity, powerful motor, and also features high-quality construction. It also has 2 straight blades as opposed to 3 which allows it to take passes on wider boards much easier. This does sacrifice some cutting quality, but it is pretty much negligible (and also irrelevant, since you should be sanding after you plane a board). An additional bonus is the 5 year limited warranty that this tool comes with, which is much longer than most comparable planers.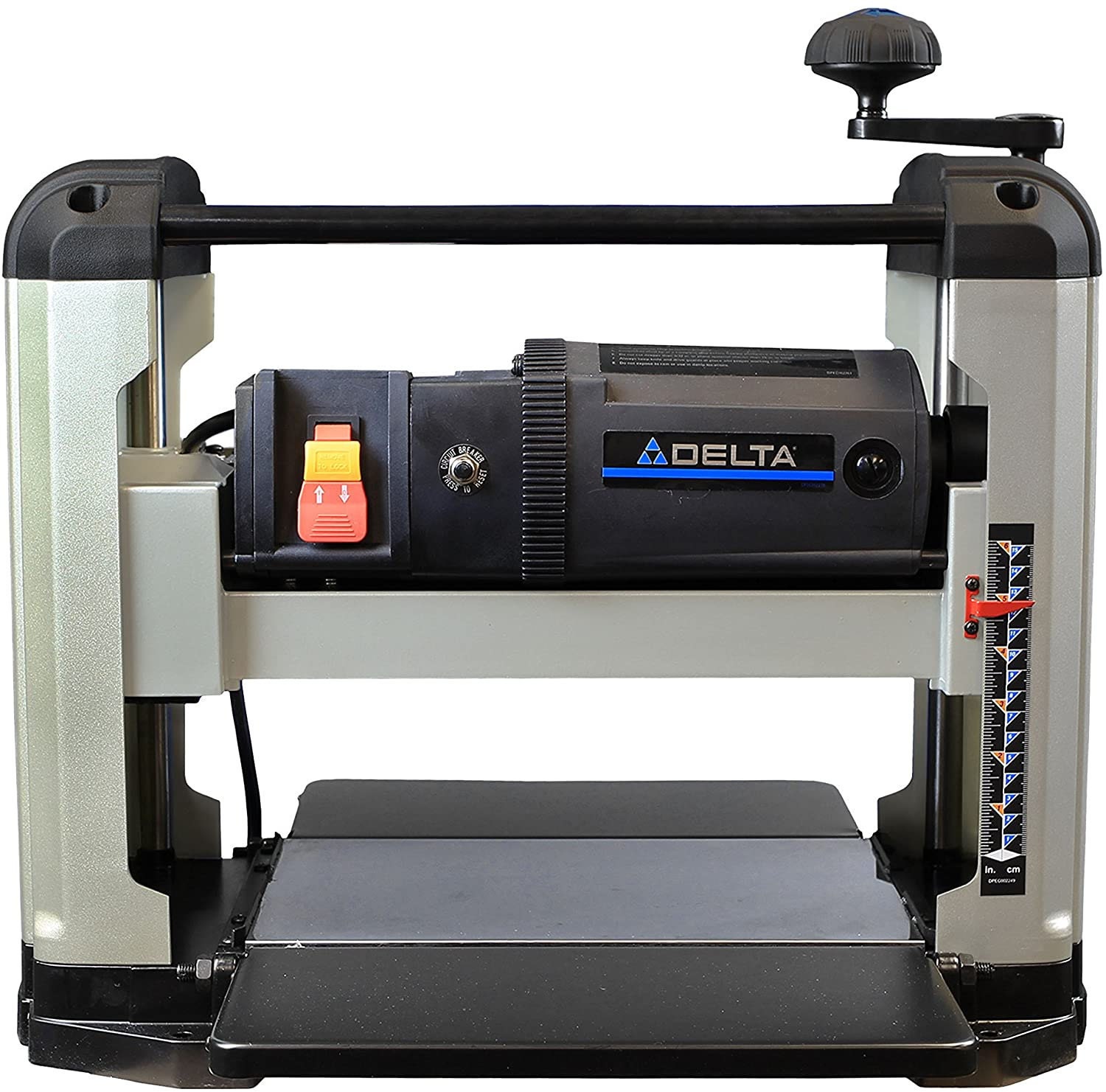 Credit: amazon.com 
Most Versatile Planer:
The main drawback of any surface planer is that their only use is in the name: surfacing. While other woodworking tools like a router can perform many different tasks in a woodshop, a planer is only designated for one thing. There is a solution to this problem however, and it is an impressive feat of engineering.
This special tool utilizes the extra space above the blade to incorporate a jointer. A quick summary: A jointer is a tool, similar to a planer, that is used to turn rough-sawn lumber into usable lumber. Instead of surfacing the top and bottom of a board, like the planer does, it makes the edges square to the surface. A jointer can be very useful as it allows uneven edges to be cut perfectly square, which is extremely valuable in woodworking and carpentry.
The most versatile benchtop planer is the Vever 10" Jointer/planer combo. While the width capacity is slightly less than other comparable planers, the addition of a jointer by far makes up for this shortcoming. Normally buying both a planer and a jointer for your shop would cost you far over $1000, while this jointer/planer combo comes in at a screaming deal of $600. The quality is also up to par with our top planers, with solid metal construction and a steel stand that is included in your purchase. And of course, it has a 1500 watt motor to handle all the demands of a hobbyist woodshop.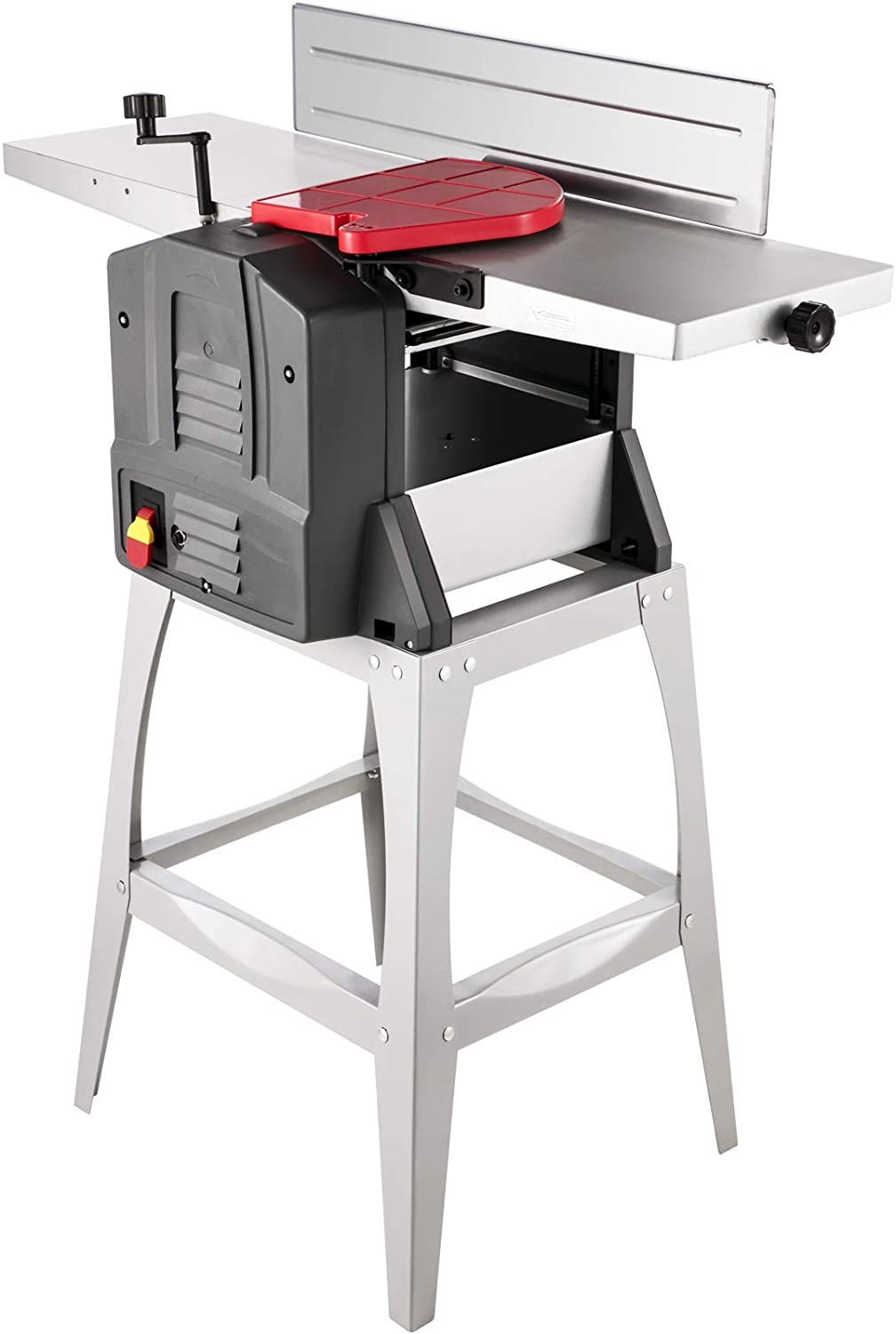 Credit: amazon.com
Highest Quality:
This planer is regarded as one of the best benchtop planers on the market and is addressed in many other product reviews. It comes in at a high price tag, but it is still worth your money if you want an outstanding piece of engineering. It is the go-to planer in hobbyist and even professional woodshops, where a portable benchtop planer is needed.
The highest quality benchtop planer is the Dewalt 2-speed thickness planer. You can automatically tell from the picture that this planer is set apart from its competitors. The design is quite different with the sides opened up, making it possible to add features like the depth-stop turret, which makes it easy to quickly set the planer to common depths. It also has a fan-assisted dust-extraction system, which quickly evacuates dust and shavings from the cutting area, maximizing efficiency. The main characteristic of this planer is its ability to operate at 2 different cutting speeds. A switch, which is found on the front-left side of the planer, is able to change the cutting speed from 96 to 179 cpi (cuts per inch). This makes it easier to do rough dimensioning, and then up the speed for the finishing passes.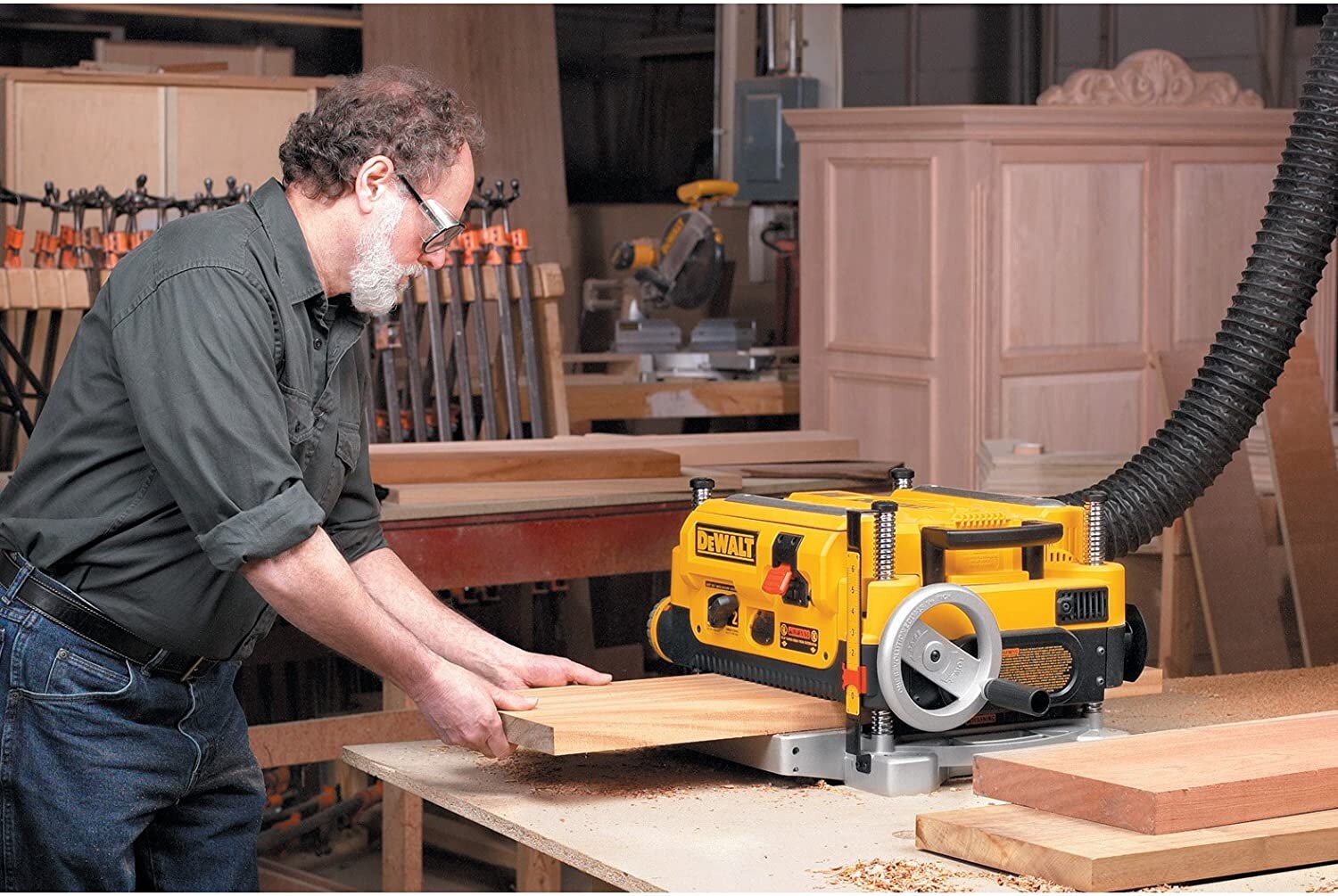 Credit: amazon.com
Best Value
For the planer with the best value, I took into account the cost, quality, and design. Since this article is written with the hobbyist woodworker in mind, I selected a budget planer that is guaranteed to outperform many of its more expensive counterparts. This also happens to be my personal planer, and I have been using it for nearly 4 years now with no signs of slowing down.
The benchtop planer with the best value is the WEN PL1326 Spiral Cutterhead planer. This is one of those finds that is almost too good to be true, except it is and it's on Amazon. This planer boasts an impressive 13" of width capacity, rivaling our selection of the Delta planer we talked about. The most impressive feature, and what immediately made me select this for best value, was the spiral cutterhead. These special types of cutterheads are very expensive and usually only found on $2000+ planers. Small blades are arranged in a helical fashion around the cutterhead that results in an incredibly smooth, clean, and powerful cut. These cutterheads also last far longer than straight blades, so it will inevitably earn your money back. All in all, the WEN Spiral Cutterhead planer comes in at a mind-boggling price of $458, and if you want to spend even less for the straight-blade version, it is $313!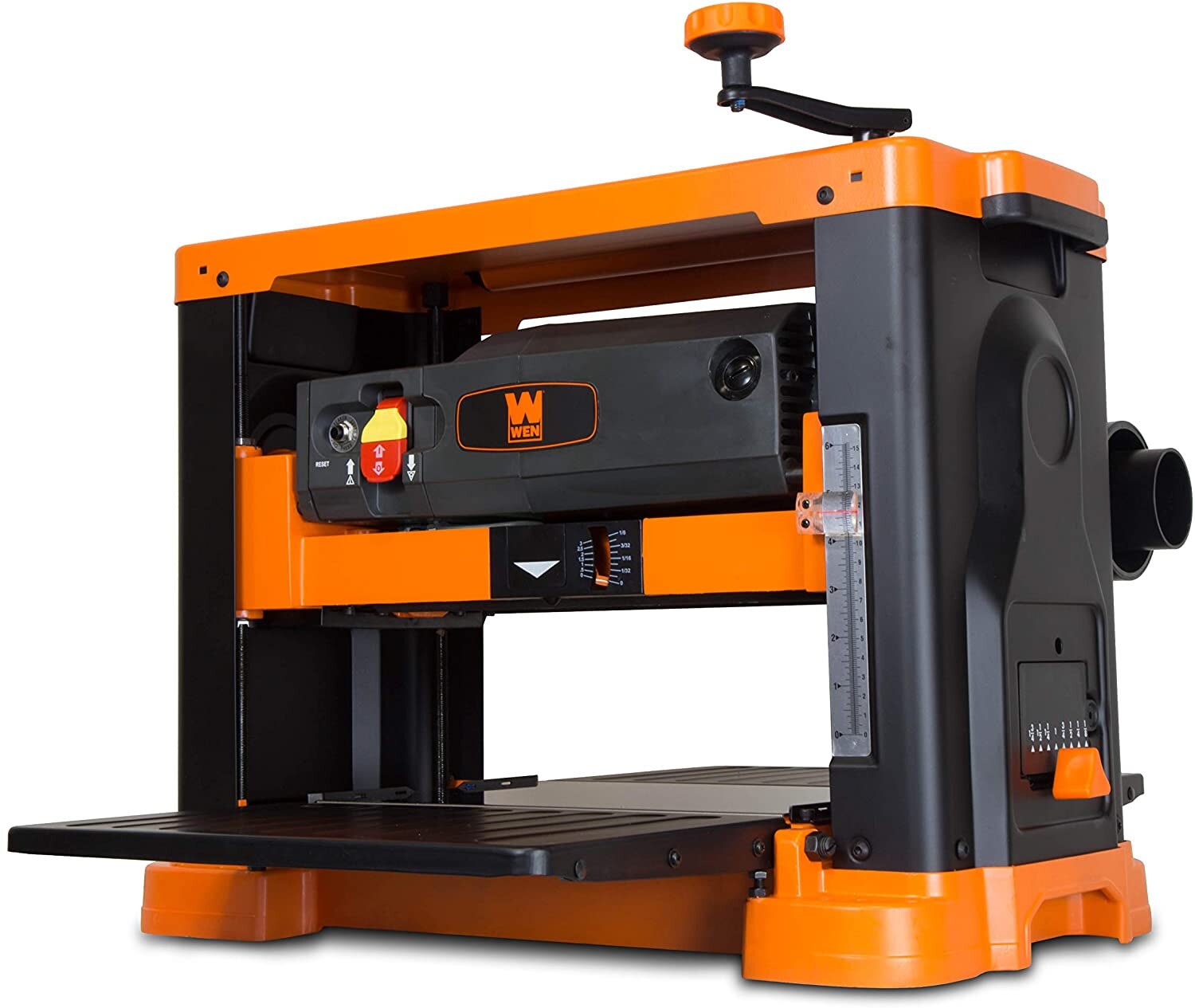 Credit: amazon.com